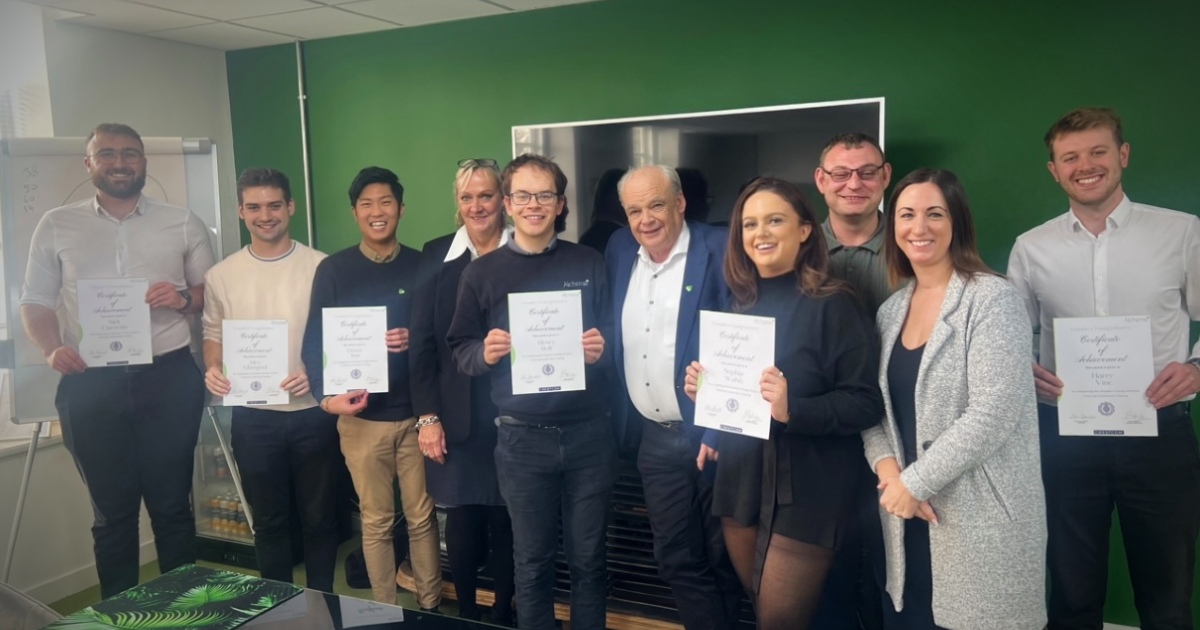 Alchemie graduates of the Founders Young Initiative Crestcom Leadership Training with Dr Alan Hudd, Founder & CEO at Alchemie, Penny Martin, HR Director at Alchemie and Fiona Bishop, Crestcom UK Partner.
Alchemie's Dedication to Employee Growth
Alchemie Technology have always been committed to developing their team members and to fostering learning and excellence.  As the company is about to enter a period of rapid growth, the leadership team wanted to address two key concerns:  how does the current culture remain strong, and how do we develop our staff members to equip them for the changes and opportunities heading their way?
With these two concerns in mind, Alchemie contacted Fiona Bishop, Crestcom UK Partner. With a track record spanning over 35 years, Crestcom have positively impacted the professional development of over 1 million executives across 60 countries, empowering their delegates to cultivate fresh leadership competencies, foster strategic decision-making, and refine their managerial expertise. Fiona herself has a wide range of knowledge and expertise, making her and Crestcom the ideal training partners.
Seven team members from various departments, including marketing, operations, research &development and product development undertook the training programme. The training was designed to develop a deeper understanding of management skills at all levels of leadership. The twelve-course programme addressed a wide range of themes, including "Captivating Your Customer" and "Team Fusion.", it also looked at managing different personality styles, how to communicate with impact and how to make a shift into mental agility and resilience.
Fiona said "It was fantastic to work with this group, all the individuals worked so well together which made the course a success. I know that this team will go far and grow with Alchemie.".
Graduation Day: Celebrating Success
This week, Alchemie celebrated a significant milestone as all seven of its employees graduated from the Alchemie Founder's Young Initiative Crestcom Leadership Training program. Upon successful graduation, all employees who underwent the training were asked to present their key learnings and how they have successfully implemented them throughout the company. The graduation took place on the 24th of October 2023, it was an intense but very rewarding day for all those involved.
The employees' experiences throughout the training have been truly transformative.
Harry Vine, Product Specialist, shared:
"Fiona was a brilliant instructor and got everyone engaged in discussions with applications for our workplace! One key takeaway for me was the influence of tailoring your communication style for different people's personalities and approaches."
Sophia Walsh, Events Manager, noted:
"The 'Captivating Your Customer' course changed the way I approach interactions with our audience. I've become more attuned to their needs and am better equipped to provide exceptional services and events. I am delighted to have taken part in this course and I look forward to implementing my newfound knowledge and training into my everyday work life."
Nicholas Ciaravolo, Materials & Purchasing Controller, said:
"The course was very engaging from start to finish, and the session topics were tailored very well to Alchemie's ethos and mission. My biggest takeaway from the course was learning about different personality types and how to use them to my advantage to improve the effectiveness of my communication. Extremely valuable course that will serve me well in my career."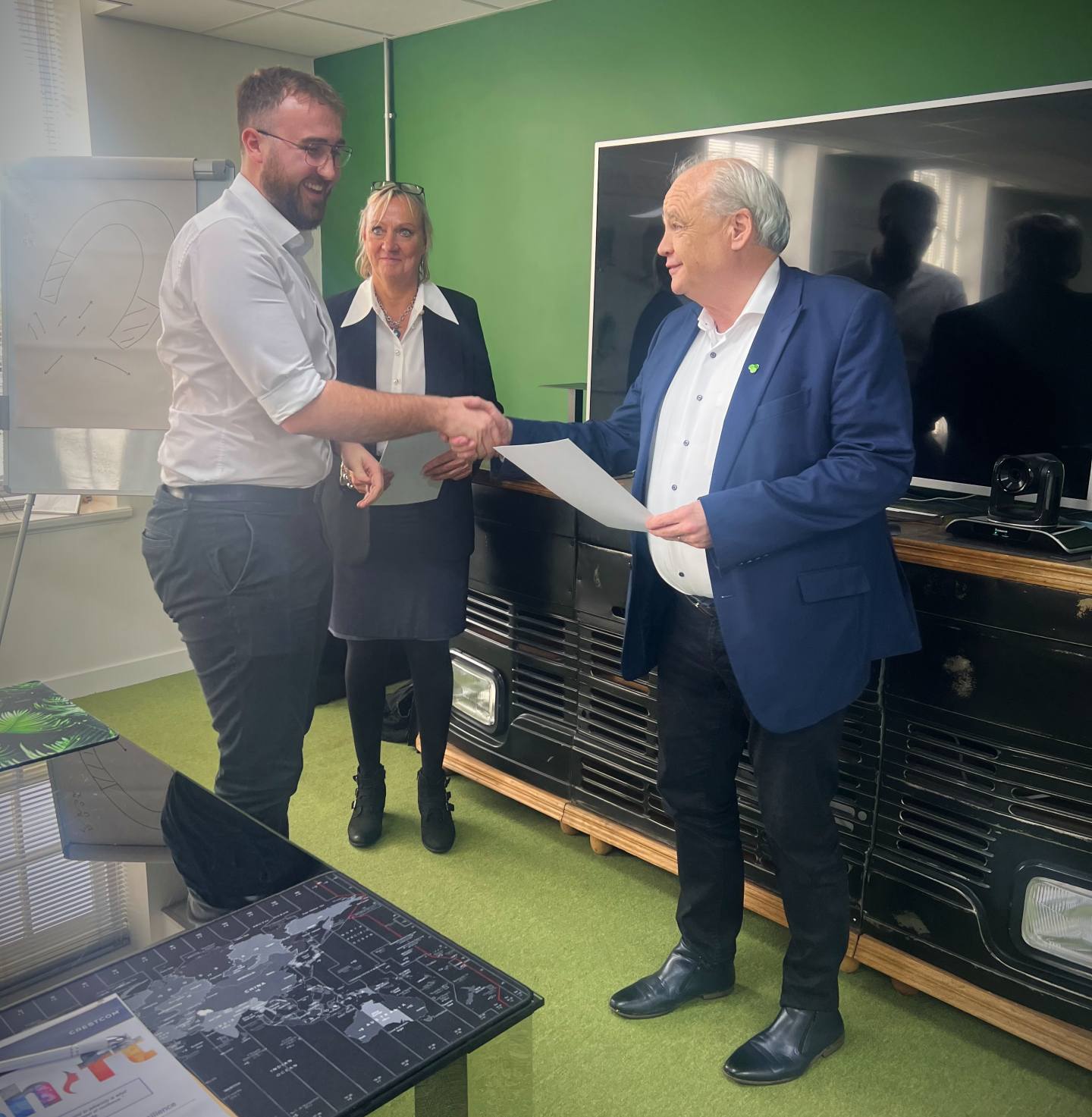 Nicholas Ciaravolo being presented with his certificate by Dr. Alan Hudd.
The Ripple Effect
The impact of this investment in employee growth extends beyond the seven individuals. As they return to their departments armed with new knowledge and skills, Alchemie look forward to them becoming the agents of positive change, influencing their colleagues, and fostering a culture of continuous learning and improvement.
"The entire journey, from the first day of training to the moment they received their certificates, was a testament to the commitment and of our brilliant employees. Alchemie's investment in their employees' growth and development not only benefits the individuals but also contributes to the company's success by ensuring a highly skilled and motivated workforce. With this being said, we are already looking forward to starting this journey with our next group of highly motivated employees" said Penny Martin, HR Director.
By prioritising the growth and development of its workforce, Alchemie is securing a brighter future for both its employees and the organisation.